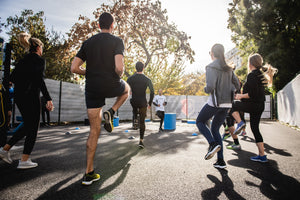 The Benefits of Training With A Friend
Following the end of lockdown and with summer fast approaching, we know how difficult it can be fitting in exercise and maintaining a social life. We actually wrote a whole piece on fitting exercise into your post lockdown life, which you can read here. Though if it's a toss up between exercise and socialising, why not combine the two? Here are just a few of the benefits of training with friends.
It Holds You Accountable
It's easy to cancel on your own plan to work out but when you've got a date in the diary with a friend, you're a lot more likely to stick to it. Scheduling regular workouts with a friend can also help you to be more consistent with training. 
It's A Great Way To Switch Up Your Workouts
We all fall into the rut of doing the same workouts which feel comfortable, the weight section of the gym can be daunting at times. However, training with a friend can give you that extra boost of confidence. Plus you can learn from each other and share techniques.
Motivation
It never hurts to have a hype man, and it's a lot easier to encourage other people at times than it is to be your own cheerleader. You'll be a lot less likely to give up when you're training with a friend, and if you've set a time to workout in the gym together it can push you to exercise for longer.
It's Fun
Working out is a lot more fun with a friend. Chatting can help the time to fly by and it's social! Trying a new class together, or joining a sports team, that you might be too scared to approach alone is a great way to make new friends too. 
---